Your hospital has a brand to grow, nurture, and protect. In the new consumer-driven era of healthcare, it's imperative that health systems apply best practices from other industries—retail, electronics, restaurant, and hospitality—to ensure they win the decision consumer journey for new patients. Especially when capturing that patient comes with quantitative patient revenue.
The lifetime value of a patient has become $250,000. Multiply that figure by a family of four, and your hospital could be winning, or losing, $1 million per family.
Taking a cue from other industries, start by realizing that your people, every single one, fulfills or fails the brand promise in your marketing and advertising.
Let's break it down by department:
Patient Access
Your schedulers, registration clerks, and financial counselors are the first faces—and first experience—most health consumers will have with your hospital. It's imperative this front-line team is a polished model of phone and in-person customer service.
Do they smile when answering or making telephone calls? Listeners can tell.
Do they greet each incoming patient warmly and treat them with dignity?
Do financial counselors respectfully and discreetly go over costs and payment options before care is administered?
Case Management
From case managers to social workers to discharge planners, this team is the coordination hub of patient care. When my son was born, the experience was mostly positive—until discharge. My son's mother and I had no idea how to operate our newly purchased car seat, and when it was time to check out, not only did we wait more than two hours for anyone to check in on us before we left, but I ultimately had to flag down a volunteer to show us how to properly put our new son in his car seat. It wasn't until I asked her to call a nurse that we were finally brought discharge paperwork. The moral of this story? Put your clinical team in the minds of your patients and address common questions or concerns before they become challenges or bad anecdotes shared on social media.
Maintenance Team
In the retail realm, teams sweep the store aisle-by-aisle before leaving at night to ensure products are properly stocked, in their correct positions on the shelves, and that all sales or clearance placards are up-to-date. The following graphic from The Advisory Board demonstrates how maintaining a clean and responsive hospital affects the patient experience—and a patient's likelihood for scoring and sharing a high patient experience with peers.
Even a 5% increase in satisfied patients could realize $2.5 million in additional patient revenue in one year.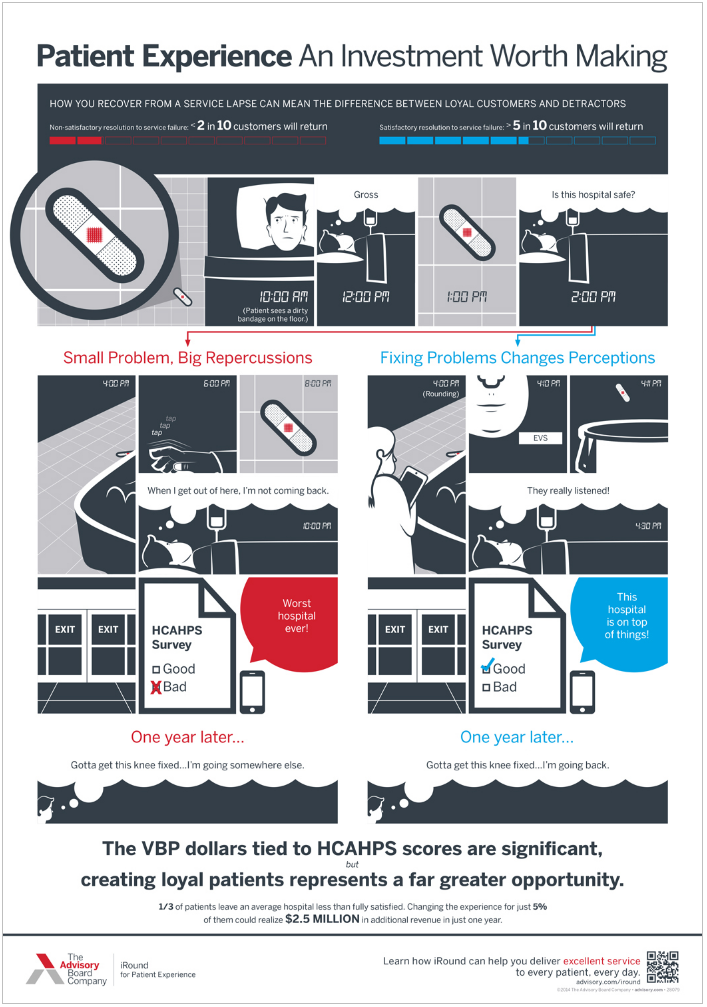 Health Information Management
Even though your HIM team may not interact with health consumers often, several considerations include:
Are your inpatient and outpatient coders accurately capturing and billing the services rendered?
When asked, is your HIM team able to promptly find patient records?
Have you implemented a patient-friendly portal that encourages virtual adoption?
Patient Financial Services
Besides Patient Access Services, your business office is a critical area to create a positive customer experience. After all, these are the folks calling to collect on accounts receivables and unpaid bills. Many health consumers are often hit with sticker shock after they've had an outpatient surgery, for example, so it's imperative your billers and call teams remain empathetic and respectful. Some tips include:
Record phone interactions to capture teachable moments in resolving conflict or collecting A/R in a patient-friendly way
If your hospital offers payment plans, make sure your call team understands them and can communicate them clearly to the patient
Regularly audit any outsourced call center work to ensure the vendors you've hired are adhering to your hospital's brand standards
By taking a page from the retail, hospitality, and electronics industries (among others), you can help promulgate your brand organically. But it starts with every member of your team. And remember—lead by example.
Next week we'll be publishing a case study about a hospital that leveraged customer service to improve the patient experience—with dramatic results.
Photo courtesy of Creative Commons Licensing: "Brands" by Brett Jordan.